As the winter sports seasons begin, we request that parents supervise all elementary and middle school students who attend the events. We ask that that students stay with their parents and remain in the stands as they cheer on the Mustangs!

98.9 The Vibe will be broadcasting tonight's basketball games!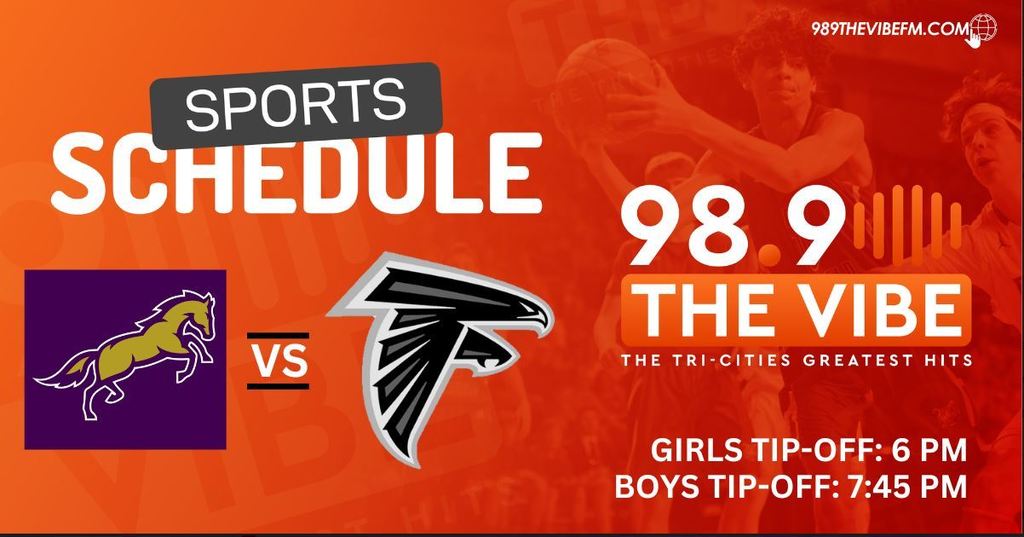 Attached is the Winter Sports order form for buttons and pictures! If you have a student that is involved in winter sports and would like to order buttons or any of the other items on the order form please do so and have your order form with payment returned to the office by December 1st!! Please call the main office if you have any questions!! 308-752-2925

If anyone did NOT receive the school reach this morning about the late start, please go to the following link and request to be added to our system.
https://forms.gle/oL1vmgMfGELNYaqK7

Junior High Wrestling will now leave SEM school at 9:45 am for the meet at Overton!
Due to road conditions SEM will have a 10 o'clock start today, Tuesday, November 29th. Drive safely!

American Legion Soup supper

SEM Scholars Scholarship Supporters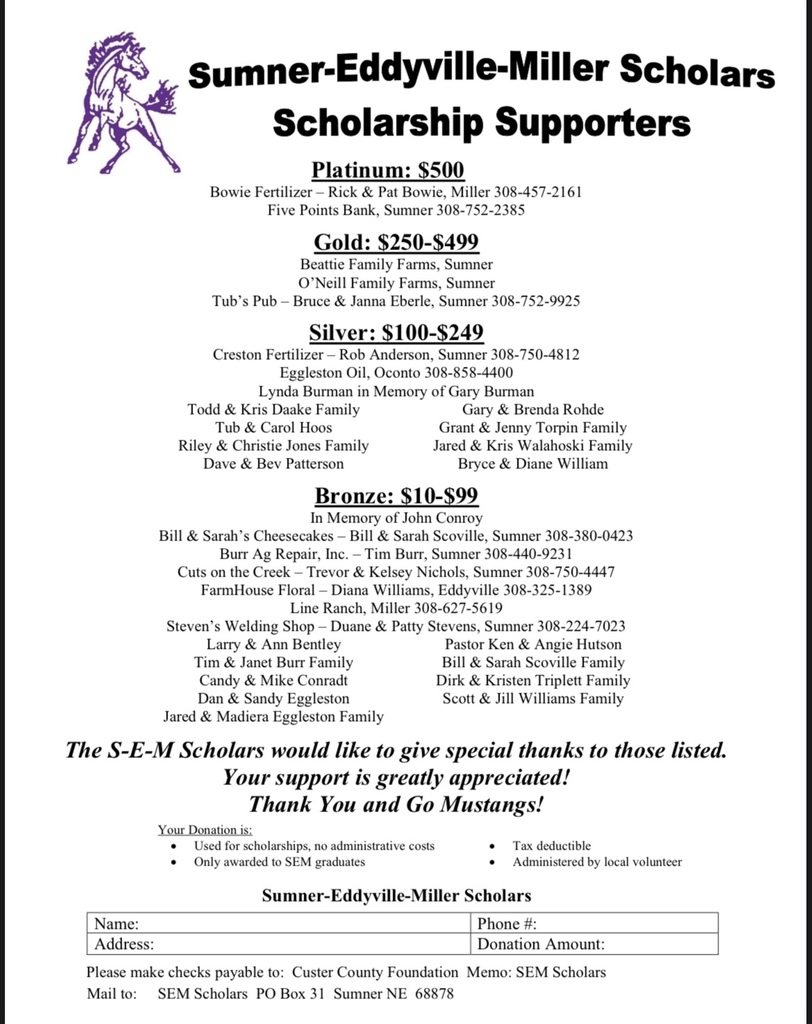 Picture retake order forms are due back Monday November 21st!!


Good evening, Mustangs Nation! This is principal Grant Torpin here for your weekly update. Just like every week before, last week was a great one here at SEM. The football team made one of the most impressive runs at the state title in school history and made it all the way to the state simi-finals! Even though they fell to the Patriots on Friday, this season will be one that the school and community won't soon forget! We hope you know how proud you made your school, community, and families! Also happening last week was the SEM eSports team punching their ticket to the state finals! This means that every fall activity the mustangs participating in made their way to state tournaments! This is a huge accomplishment and proves that we have great things happening here in Mustangs Nation! Looking ahead at this coming school week On Monday we have a school board meeting at 7:30 in the evening. On Tuesday there is the Fort Kearney Conference Choral Clinic in Axtell. On Thursday evening the One Act Dinner Theater will take place from 6 to 8PM. The One Act team will provide dinner from 6-7. Then around 7, we will go into the Practice Gym to watch the performance! People are welcome to give any donations to help One Act raise money for scripts, props, and other expenses involved in the activity. On Friday Junior High will wrestle at Curtis at 1 PM And finally on Saturday the state eSports tournament will be held in Hastings college. We will provide a streaming link on our Facebook page for all to watch. Looking at the breakfast and lunch menus for the week we once again have some great food getting served up in the cafeteria! - Monday we will have scones for breakfast and Salisbury steak for lunch. - Tuesday they will be serving coffee cake in the morning and chicken super nachos in the afternoon. - Wednesday students will enjoy French toast for breakfast and hot dogs for lunch. - Thursday they are going to have breakfast sandwiches in the morning and chicken noodle soup in the afternoon - Friday it looks like they'll be having donut holes in the AM and Delivered Pizza in the PM. That's it for today's message, have a great night and as always, I can't wait to see everyone tomorrow morning! Thanks Grant Torpin

Don't forget to support some amazing local organizations by donating to Give BIG Sumner! Donations can be dropped off at the school until 7pm or until midnight online at
www.givebiglexington/Sumner22

There will be a short Pep Rally today after the Veterans Day Program at about 2:30!

Attached is a little information about Friday's Football game in Lincoln @ Parkview Christian: Bring your lawn chairs as there is only one set of bleachers! KBBN & KCNI will be broadcasting the Semi-Final Football game @ Parkview Christian in Lincoln!
http://www.kbbn.com/
The game will also be live streamed on NFHS. This does cost $11.99 a month to subscribe, but you can cancel anytime. nfhsnetwork.com/subscribe/retail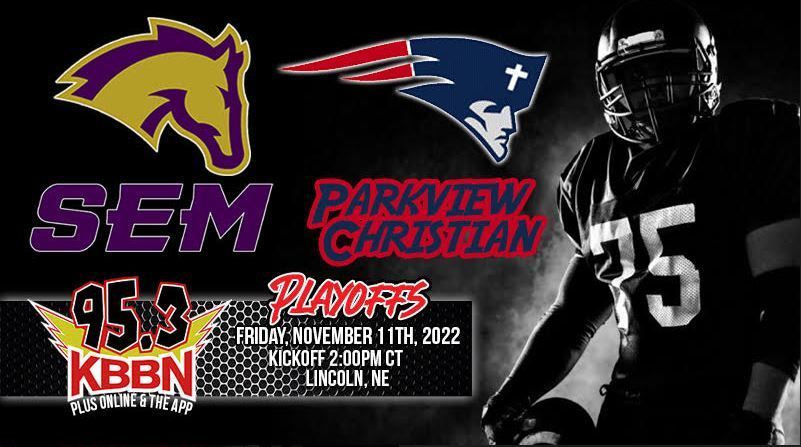 FKC VB All Star Teams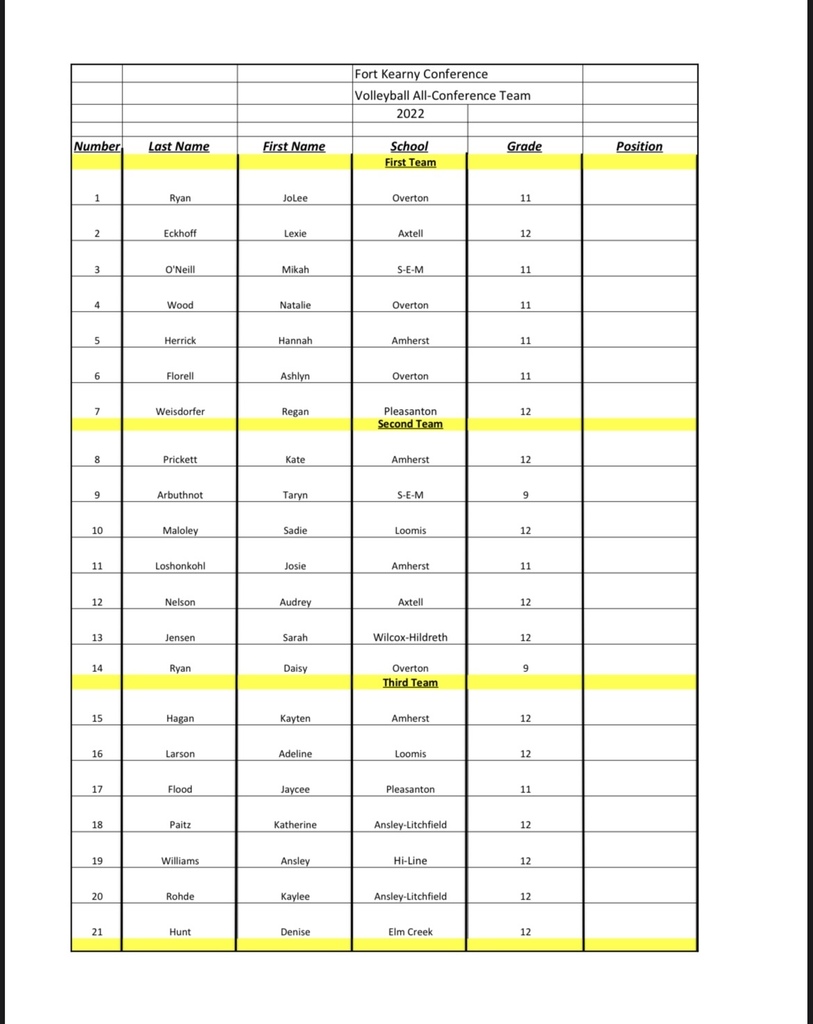 Due to the state semi-finals football game being played in Lincoln at 2PM, SEM will NOT have school on Friday, Nov 11th. The Veteran's Day program has been moved to Thursday, Nov 10th at 1:30 pm.

Good evening, Mustangs Nation! This is principal Grant Torpin here for your weekly update. First off, a huge congratulations to the Mustang Volleyball team! Making it to the state tournament is a dream of every high school team and you accomplished this! I am so proud of how hard you played in Lincoln! Please know that your families, teachers, administrators, and community are beyond proud of everything you've accomplished this year! Also, huge shout out to the football players who continued their undefeated season by beating a very tough Shelton team for the second time this season! Looking ahead at this coming school week On Monday staff will have Professional Development in the morning which means that students will have a 10AM late start! This, along with daylight savings which took place on Sunday morning means that students should get to sleep in and be extra ready to go in the morning! On Tuesday our One Act team performs for the first time this season in the Elm Creek Early Bird Festival. SEM will compete at 2:30. On Wednesday FFA district livestock and poultry evaluation will take place at Broken bow. On Thursday the organizers of Give Big Sumner will be holding a fun event in the practice gym after school. Be sure to check out their facebook page for all the details on this event. Also on Thursday evening the winter activity parents meeting will take place at 6PM. On Friday the semi-finals of the state football playoffs will be taking place against Parkview Christian. This game will be played at 2PM in Lincoln and the winner will go to the state championship! On Monday we will decide when we will dismiss for the day and a school reach will be sent out. Monday is also Veteran's Day where a program is being planned, but based on the decision made for the football game we will let you know exactly what time this event will take place. Also on Friday night we have the first Junior High Wrestling meet which will be played at 5PM in Gibbon. Also, Don't forget on Saturday at 7PM for the SEM foundation Talent Show will be taking place. If you haven't sing up yet please contact Kris at the school or any foundation member. All ages are welcome to sign up and cash prizes will be awarded. $500 voters choice. $500 for judges choice and $250 for runner up. Looking at the breakfast and lunch menus for the week we once again have some great food getting served up in the cafeteria! Monday will be chili and cinnamon rolls for lunch! Tuesday will be a chocolate chip muffin in the morning and tacos in the afternoon. Wednesday we'll have strudles for breakfast and orange chicken for lunch. Thursday is a breakfast bar in the morning and chicken Alfredo for lunch. Finally on Friday we have scones being serving for breakfast and Italian dunkers for lunch! That's it for today's message, have a great night and as always, I can't wait to see everyone tomorrow morning at 10AM. Thanks Grant Torpin PK-12 Principal