Update for tonight's boys basketball at Callaway! JV will start at 4:30 will Varsity to follow. Varsity was supposed to start @ 6:30, but Varsity WILL START EARLY! It may start as early as between 5:30 and 6:00! This is from Callaway! We did not want anyone to miss the games!!

Info for tonight's game @ Callaway!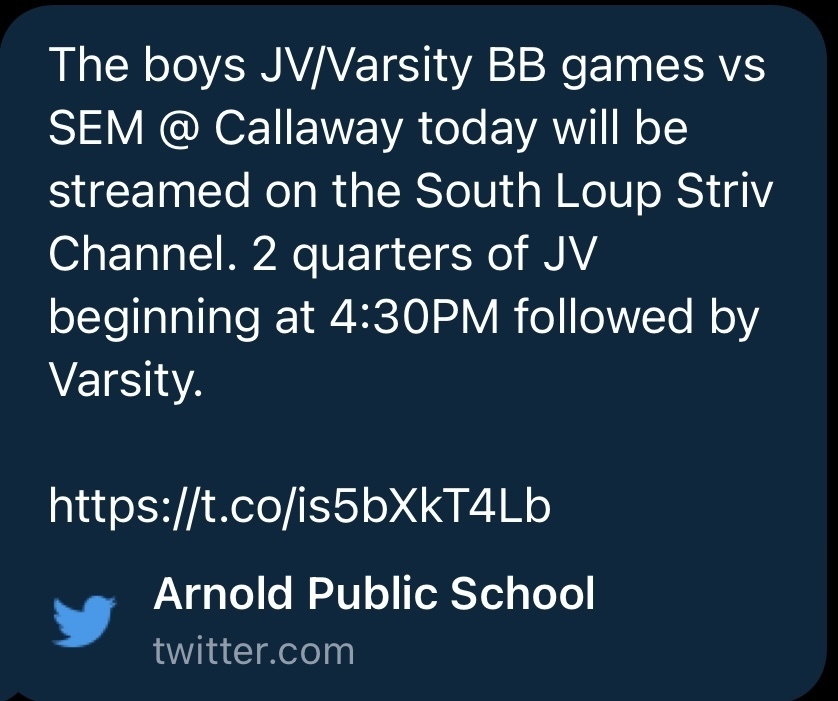 FFA Week Dress Up Days Monday: Dress like your favorite Farm Animal Day Tuesday: Official Dress Day (only applies to FFA members) Wednesday: Greenhand Day Thursday: Farm Hat Day Friday: Color War! (Seniors - Blue, Juniors - Green, Sophomore - Red, Freshmen - Yellow, JH - Black, Elementary - White)

SEM School will have a 10:00 Late Start due to the weather and roads

Boys Sub-District Bracket!!!!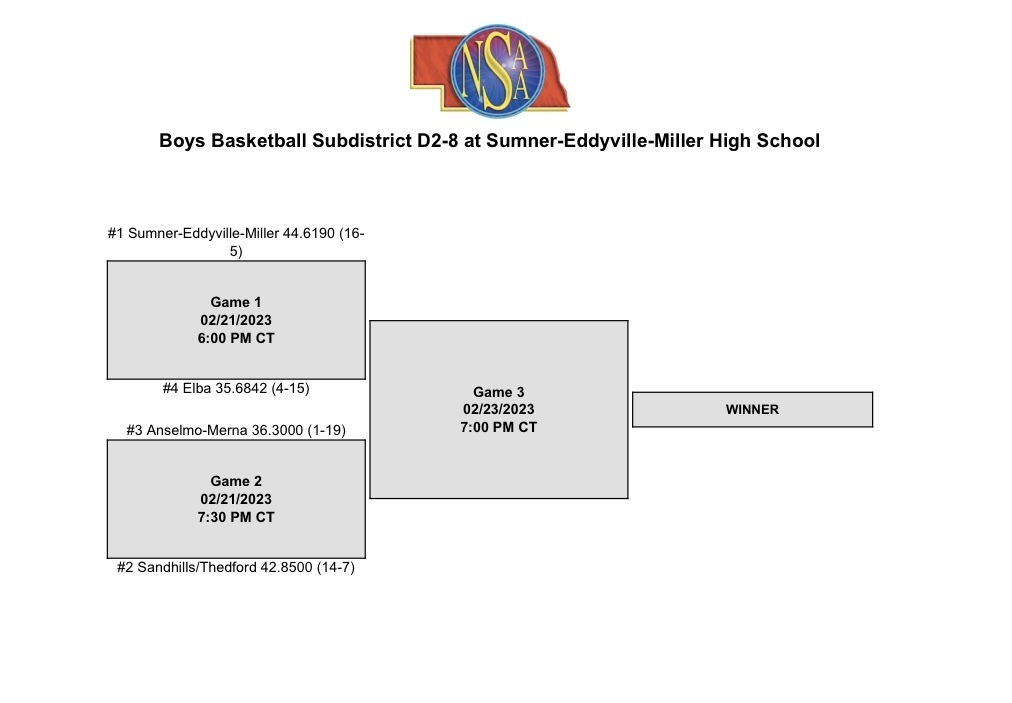 STATE WRESTLING PEP RALLY!! On Wednesday we will have a pep rally for state wrestling at 10:45. During the pep rally we'll also include the girls basketball team (either congratulating them on their season or encouragement as they move deeper into the season). At the very end of the pep rally we'll do a "mock send off" for the boys wrestlers going to state. This will include creating a student tunnel and having their names announced as they walk through!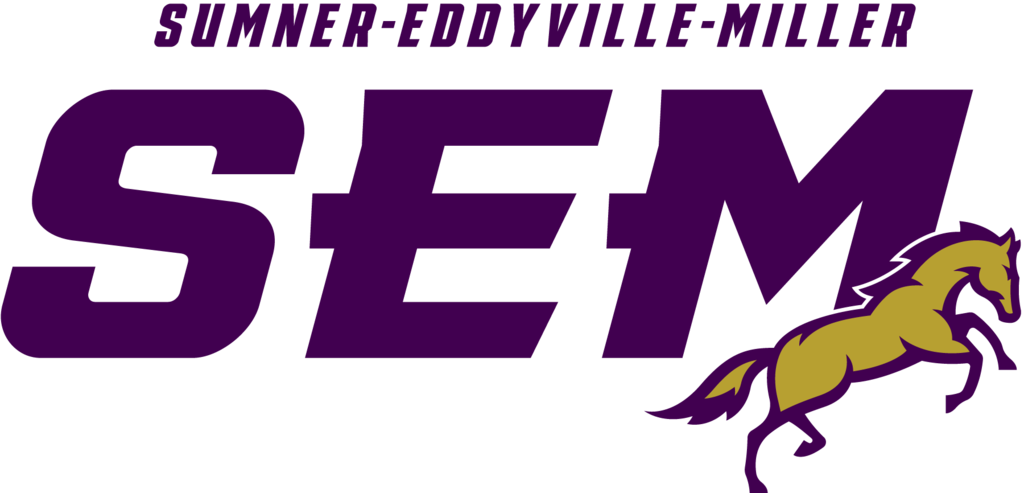 Join the girls BB parents today at 4:40 as they send off the team to subs! Good luck Mustangs!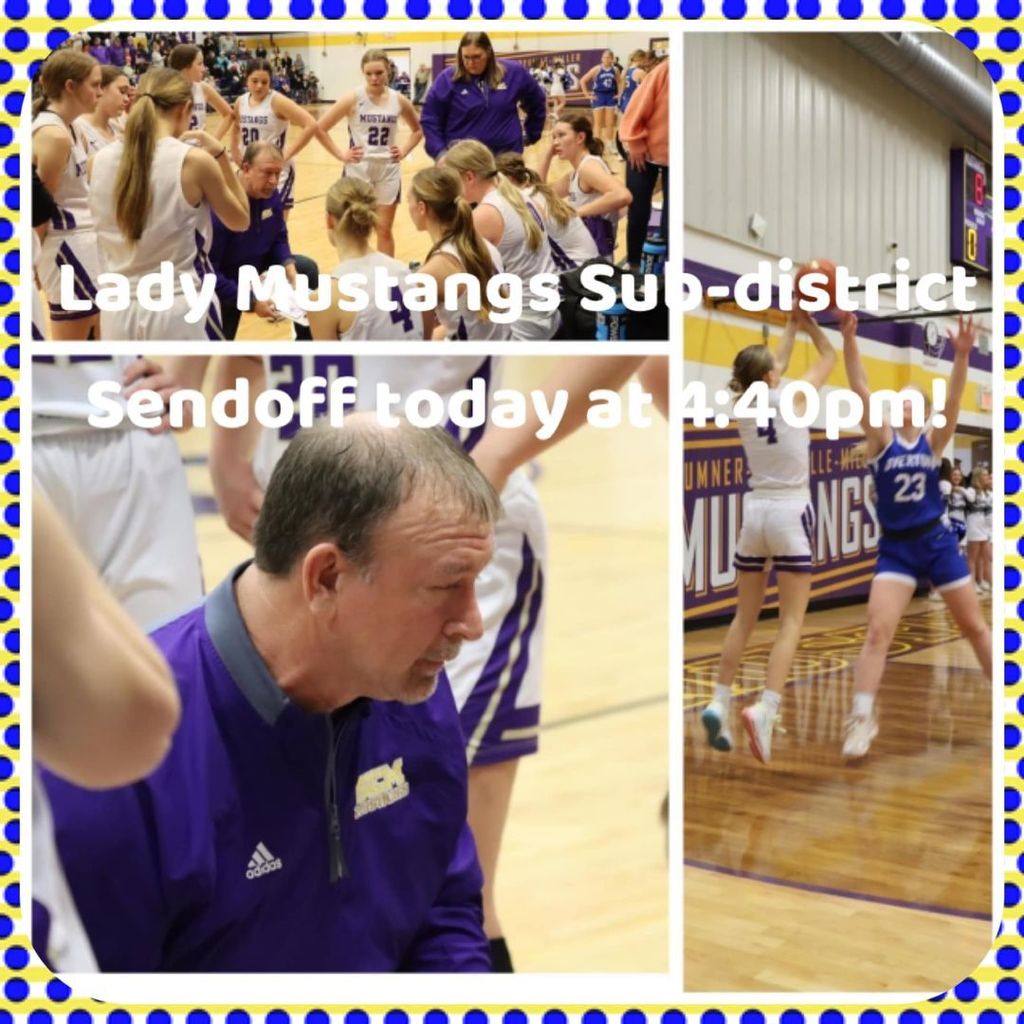 Friday February 17th! 4:30 - JV Boys BB @ Callaway (2 Quarters) NOTE THAT THIS IS A TIME CHANGE 6:30 - Varsity Boys BB @ Callaway Livestream link below!
https://striv.tv/channel/south-loup/

Tuesday February 14th! 7:30 - Girls Sub District BB @ Ravenna vs Centura The games will be livestreamed on NFHS!

Pep Rally & Send Off Information! Wednesday at 10:45 there will be a state wrestling/girls bb pep rally (if the girls win Tuesday). The send off for state wrestling will be based on the weather. It will be either early in the afternoon or after school. Once we know for sure we'll send a school reach out. Go Mustangs!

Radio Broadcast of Girls Sub District Basketball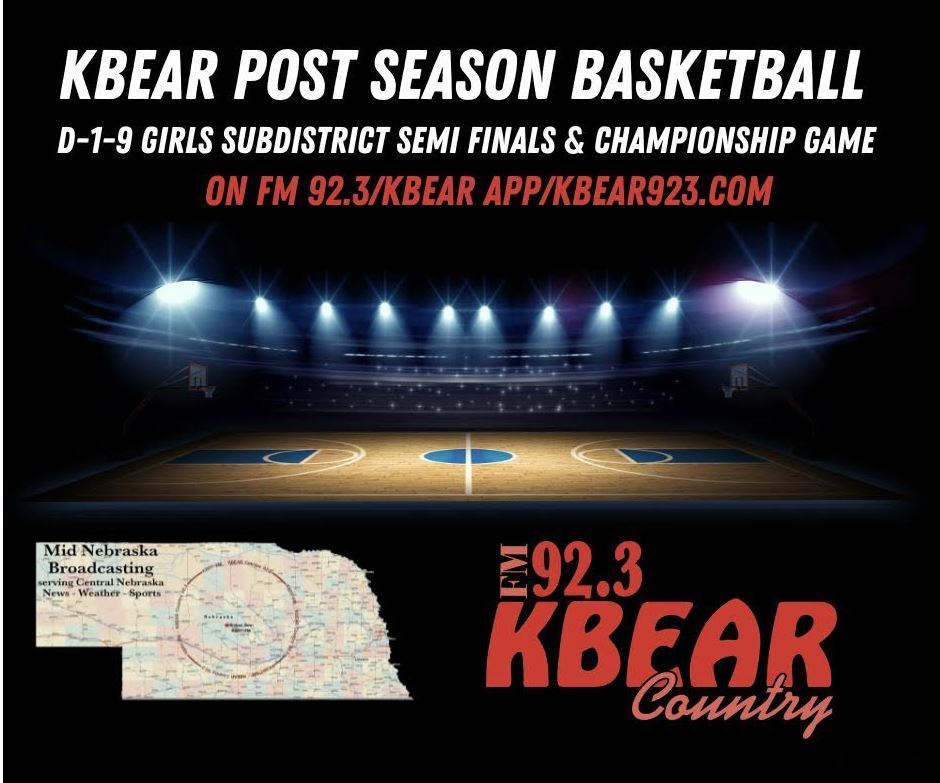 This is the correct message that should have gone out in the Sunday evening call! Sorry for any inconvenience! Good evening, Mustangs Nation! This is principal Grant Torpin here for your weekly update. Last week saw a lot of exciting things take place. Junior High wrapped up their basketball season on Wednesday, FFA qualified numerous students for state, varsity basketball games had big wins over Overton, three of our wrestlers punched their tickets to state, and our teachers were able to meet with a ton of parents on Thursday during parent teacher conferences. Looking at this week's school calendar we have another busy one at SEM. On Monday night we have a school board meeting at 7:30 PM. On Tuesday we have the first game of girl sub-districts. This game will take place at 6PM against Centura at Ravenna. The team will leave at 4:45. Nothing scheduled for Wednesday, but that is the evening that the boys' wrestlers will depart for state. Be on the lookout for information on a parent sendoff event. On Thursday if the girls win their game against Centura, we'll have another game also in Ravenna at 7pm. Thursday is also the first day of state wrestling for Maddox, Treu, and Clay. Good luck boys! On Friday there is no school for students or staff as we have winter break scheduled. Happening that night there will be a JV and Varsity boys basketball game at Callaway. JV starts at 5PM and Varsity stars at 6:30. Finally on Saturday we have a speech meet in Loup City. Good luck to all of our student competing this week! Let's now take a look at the delicious breakfast and lunch that Sara, Audrey, and Cindy will be serving up! On Monday we have Oatmeal in the morning and lasagna in the afternoon. Tuesday there will be breakfast sandwiches in the AM and Taquitos in the PM. Wednesday they have chocolate chip muffins for breakfast and chicken fried steak for lunch. And finally on Thursday they have eggs and ham for breakfast and sloppy joes for lunch That's all I have for you tonight, Mustangs, I hope everyone has a great evening and as always, I can't wait to see everyone on Monday morning!

Good evening... we learned that the voice mail sent out was a recording of something that was NOT created by SEM. We are currently contacting the website company to figure out how this happened. We apologize for the confusion and will send out an updated/ correct message shortly.


Parents....on Feb 23rd SEM will conduct a lockdown drill with local law enforcement. The following letter was sent home with all students today.
https://5il.co/1p2im

Girls Sub-District bracket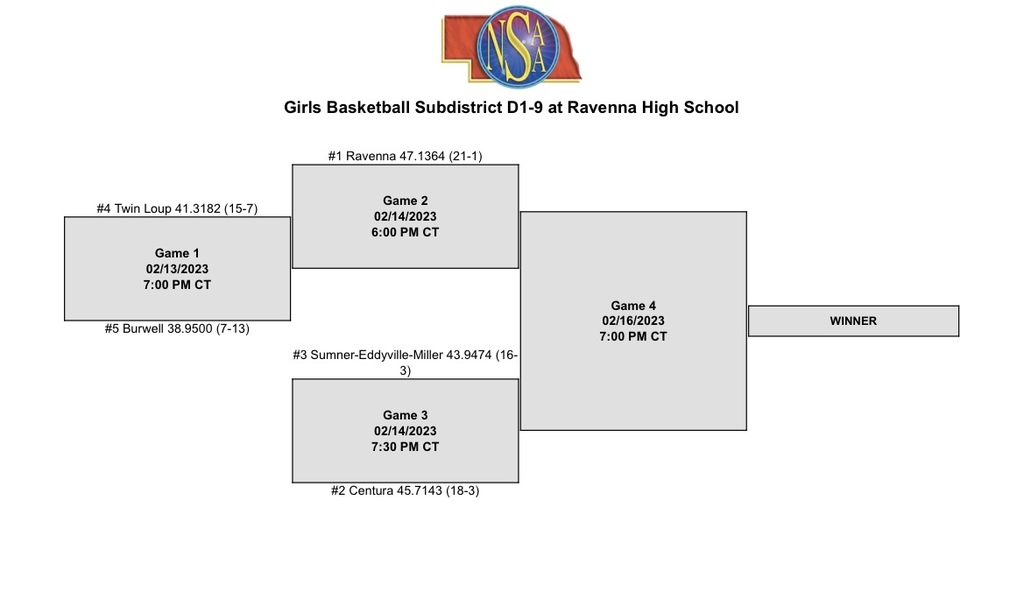 There are a few changes to this weeks calendar!! Monday the 6th JV Starts at 4:45 not 4:30 Tuesday JV Starts at 4:00 Wednesday FFA District CDE's are in Grand Island! Wednesday JH BB @ Overton time has changed to 3:00 Friday as of now there is no JV Girls and only 2 quarters of JV boys that will start at 5:00